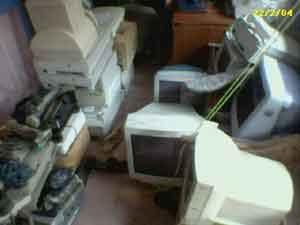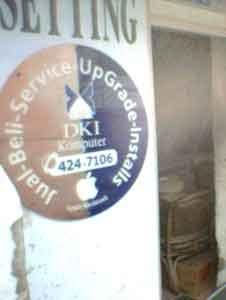 Looking for old Macintoshes? Want to bring your old Mac back alive? Try to visit DKI Komputer or contact Joni Alfaruk! Beralamat di Kali Baru Timur 1 no 234 Senen Jakarta Pusat, Joni yang membuka usaha publishing & setting-an ternyata dalam rumah mungilnya tersimpan harta karun Macintosh dari berbagai jaman. Color Classic? Ada. Powerbook Wallstreet? Ada. Modem Apple GeoPort? Ada. Sejauh mata memandang, Mac, Mac, Mac & Mac.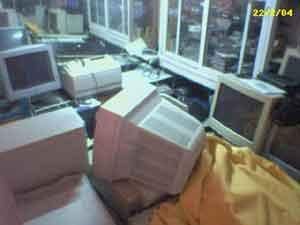 Dan tidak tertutup kemungkinan, bisa nemu barang-barang antik lainnya, yang Joni sendiri ngga sadar bahwa dia memilikinya. Gue berhasil dapat QuickCam color seharga Rp 100 ribu saja! It works well with my Powerbook 1400.
"Saya tadinya bantuin temen-temen di tempat setting buat benerin Macintosh-macintosh rusak. Iseng-iseng aja," kata Joni. "Sejak 1992, barang-barangnya ngumpul di sini. Ada yang 'ngendon' di sini. Ada yang dikanibal. Seneng aja ngumpulin barang-barang ini."
Just call him at 0214247106.