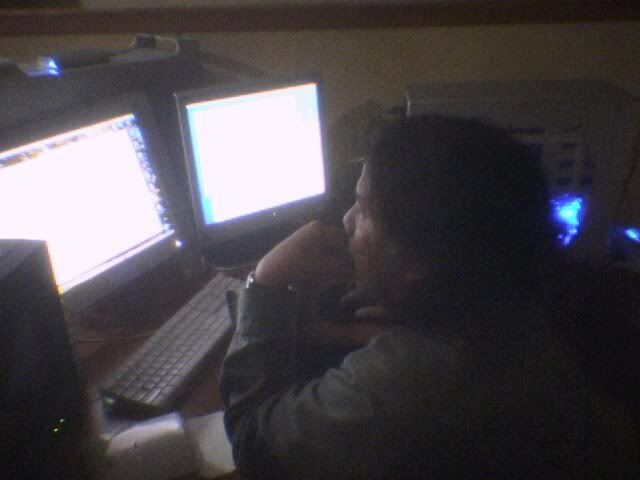 Martino dan x86-nya. Lampu biru di jeroan CPU-nya ngga nahan, Tin.

Fenomena Windows user yang switch ke Mac sudah biasa dan umum. Tapi di kantor gue ada fenomena lain lagi yang bertujuan nge-switch Mac user. Bukan membuat orang switch ke Windows, tapi switch ke x86 platform. Apa tuh istilahnya? Switch the switcher? Switch Mac User to 'Mac' (with quotes)? Switch Mac User to Crippled Mac? *muahahahahahahaha*
Oknumnya adalah Martino dan Yoswar. Mereka terus mempertanyakan kepada para Mac User : "Dengan duit 10 juta, lo lebih milih beli iMac intel atau platform x86?" Propaganda ini cukup membuat beberapa Mac User bergeming, terutama bagi yang lagi butuh Mac baru tapi dompet isinya cuma bon utang. Beberapa orang (termasuk gue) terus terang saja cukup tergoda. Apalagi lagi musim-musimnya harga Mac yang cepet turun. Salah satunya adalah teman kantor gue juga yang baru beli iMac intel - belum sebulan sudah muncul iMac Core 2 Duo dengan harga tidak berselisih jauh. "Tau gitu mending gue ke mangdu beli platform x86 dan customized" rintih salah seorang teman.
Yes it's relatively cheap. It's custom-able. Tapi hati gue masih belum sepenuhnya ingin langsung menggantikan QuickSilver G4 gue. Gue lagi ngga ingin terlalu 'ngoprek'. Namanya juga 'crippled', pasti ada satu titik masalah kompatibilas hardware. Apalagi si Martino nemu kasus - yang saat ini - belum terselesaikan : x86-nya setiap bangun dari Sleep-nya langsung minta restart. *muahahahahahahaha*
Let's face it, Martino. Seperti yang kita obrolin di kantin, kalian semua para peng-oprek x86 sedang dimanfaatkan Apple. Daripada mereka (baca : Apple) bikin divisi khusus untuk melakukan observasi & eksperimen, mending diserahkan saja hasilnya pada kalian. Soon, begitu terlihat hasilnya - bahwa OS X bisa sepenuhnya jalan sempurna di non-Apple hardware - Apple akan langsung memutuskan membeli right hasil oprekan kalian dan menyatakan bahwa kegiatan ngoprek x86 adalah ilegal.
*muahahahahahahahaha*
Kantin yuuukkk...